An Introduction
Our company,
Shree Ganesh Export
, is one of the most reliable & successful
Precision Brass Components Manufacturers and Exporters.
Right from our inception, we have been working with the aim to provide solutions to the organizations that are based in India as well abroad. We have gained popularity for manufacturing all Precision Components of several Alloy Metals including Brass, Copper & Aluminum.
Brass Battery Terminal, Brass Coupling, Brass Nipple, Brass Insert, Brass Precision Parts, Brass Welding Parts, Brass Turned Parts
and
Brass Impellers
are some out of many products of our company that bring to us regular demands. The products that we develop find their use in several industries from Automotive to Electrical & Electronics, Pneumatic & Hydraulic, Marine Instruments, Gas & Oil Industries and General Engineering.
Core Values
Some of the core values of our company are:
To well treat our employees, supplier & clients and build long term partnering relationship of growth with them.
To respect & fulfill all the made promises
To remain focused towards our indigenous technology.
To deliver right product not just the at first time but every time
To carry business activities in a way that support of our believe in sustainable development
To build our brand image by remaining focused towards serving quality range.

Our Quality
At Shree Ganesh Export, a Quality Management System is followed to achieve the best quality standards and stand upto the expectations of our customers. The system helps us in constantly maintaining, improving and reviewing quality of our product range. Effective audits that we conduct as per our quality management system help us to meet all the requirements of Indian & Foreign Standard, i.e.
General Tolerance 0.05mm for highly specific operation can be attained by us within 40 micron band.
For Grinding operation, tolerance can be attained within 10 micron band.
In order to properly implement quality management system, we have maintained state-of-the-art quality testing facilities and appointed a specialist workforce. The tests conducted by us help in getting assured of our products quality and delivering value for money range to clients.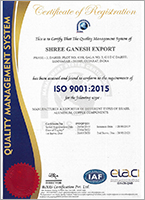 Read More